5th Year of District 7 Participatory Budgeting
Participatory Budgeting
Please join Supervisor Norman Yee for his 5th year securing funding for District 7 Participatory Budgeting.
Join your neighbors and learn about the Participatory Budgeting process, how to propose ideas, and decide how to spend $500,000 in your neighborhood.
The community kickoff meeting is on Wednesday, November 1, 2017 6 pm – 7:30pm at the Midtown Terrace Clubhouse, 280 Olympia (at Clarendon).
Select the link above for more info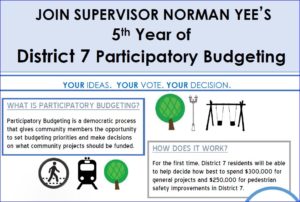 Thanks!
Bill Kan
President
MPIC
Last Updated
November 17, 2017