News & Events
Put up your NEED HELP/OK sign
Thanks to MPIC, NERT, Resilient Miraloma Park, Community Connectors, and the new Block Champion Program, our neighborhood is OK! Are you?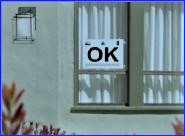 It's time for the October 1989 earthquake remembrance drill!
Become a participant. Place the attached OK sign in your front window during the 2nd and 3rd weeks of October to show that you remember AND that you are participant in making the Miraloma Park community more stress resistant community by minimizing the effects of a disaster in your own household. Please take down the sign after the third week.
The NEED HELP/OK sign may be down loaded here:
Help-OK Sign
Check out the October Issue of Miraloma Life for more details.